Welcome to the Summit County Utah Republican Party Website
Would you like to help out?
We are recruiting volunteers to help out with upcoming events, outreach, social media, local issues, local elections, and Utah politics. If you are interested, please send an email to summitcountyrepublicans@gmail.com with your name, phone number and how you would like to help. THANK YOU!!
Join us on July 5 for the Oakley Independence Day Parade!
We will be marching on July 5 in the Oakley City Independence Day Parade. Wear red and join us! Follow our Facebook Page for updates. Contact us at summitcountyrepublicans@gmail.com to sign up.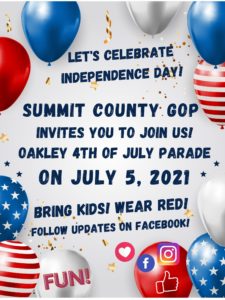 Past Events
On June 14, the Summit County GOP celebrated Flag Day at the Oakley City Patriot Flag Day Celebration! We gave out flags to children and had high quality large flags available for purchase.
.
On May 20, from 7-9 PM, the Summit County GOP hosted a meet and greet townhall meeting with our GOP state elected officials representing Summit County. State Representative Kera Birkeland and Senators John Johnson and Senator Ron Winterton gave us an overview of current topics and issues.
The Summit County Utah Republican Party Stands for..
"We The People", not We The Government
Free market enterprise which allows us to prosper & advance
Individual freedom not government oppression
The U.S. Constitution should be honored and upheld
Personal responsibility
Limited government that protects us, but doesn't control us
Family
Hard work
Quality choices in education
Equal Treatment of all races, religions and incomes
Save the earth, keep it clean and green
Low taxes